Lookout Anduze Fort Rohan
The lookout of "Fort Rohan" is located on the eastern side of Anduze. It is at 334 meters above sea level, exactly 200 meters above Anduze [5]. Of course, this also promises a great view down on Anduze. But that is not all. From up here, you also have a great view in the Cevennes in west and north as well as in the south and east.
We park parallel to the Route d'Ales at the height of [1] the Chemin du Bois. (about 100 meters further on you can see a bus stop. That's where we took shelter in a parallel running road). Of course, you could also start from Anduze.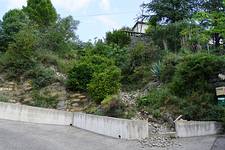 Hike to the lookout Fort Rohan [2]
©: www.anduze-info.com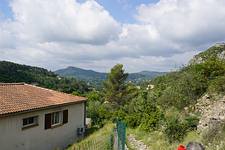 Hike to the lookout Fort Rohan, between [2] and [3]
©: www.anduze-info.com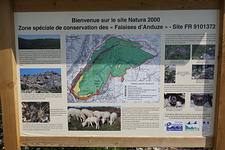 Hiking and information board [4]
©: www.anduze-info.com
From here the small street "Chemin du Bois" hike leads 70 m uphill. Then the street turns right, and you follow another 60m. From here on you hike along a private property on a gritty and rocky path (yellow marking). After about 5 minutes, and another 150-200 meters you meet a dirt road (called Pastourelle, located 259 meters above sea level) [3]. Here you turn left. According to the sign, you walk approximately another 900 meters to Fort Rohan. After a further 200 meters, you see another sign (Babylone, 269 meters above sea level). Here you find the directions to Fort Rohan [4]. The information board also provides information on the specifics of the rock formation of "Falaises d'Anduze", its flora and the protected bats.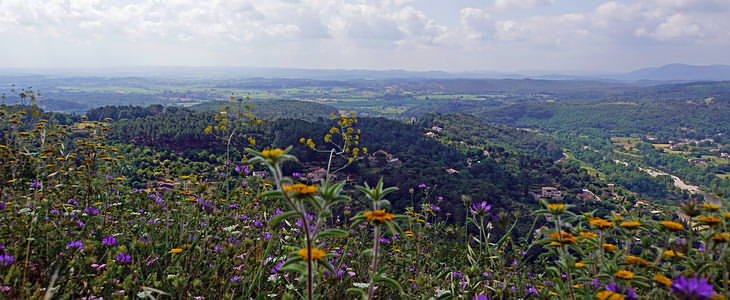 Looking to the east and south to Provence | ©: www.anduze-info.com
Along the way, you can enjoy the views of the Provence to the east and south. The wide trail will be slightly narrower and runs along an electric fence to your destination.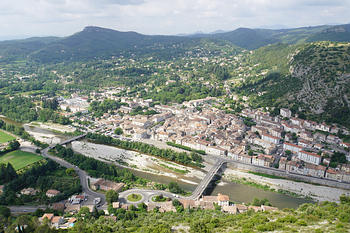 View on Anduze from the lookout Fort Rohan
©: www.anduze-info.com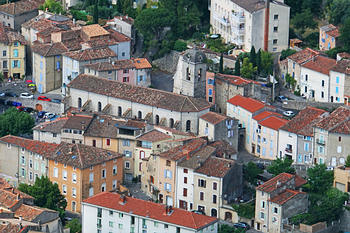 Overlooking the rooftops of Anduze and the church Saint Etienne
©: www.anduze-info.com

View at Anduze: Tour de l'Horloge and its Temple
©: www.anduze-info.com
As you reach the lookout [5], you can see Anduze from the east. You can see the large roundabout, the two bridges over the Gardon, the railway bridge, as well as the special attractions of Anduze such as the Tour d'Horloge, the churches, the courts, the supermarkets, the Parc de Cordeliers and the train station.
If you hike towards Cevennes, you can discover many peaks, such as the Mont Brion, or the Mont Aigual.
Right in the opposite of the rock formation above Anduze, you can see the lookout "Rocher de Saint Julien". Information on this trail you can find here: Hiking tip for Rocher de St.Julien. Starting in Anduze, this hike takes one hour.


Panorama Anduze and the Cevennes and Provence. Compared to the viewpoint Rocher de St.Julien | ©: www.anduze-info.com
[ © Copyright by www.anduze-info.com | Anduze in South of France - the gateway between Provence and the Cévennes]
to the top | Home | Sitemap | Imprint & Contact | this page in German
©: www.anduze-info.com