Cévennes | ©: www.anduze-info.com
Scenic Road Corniche des Cévennes
Corniche de Cévennes is a 53-kilometer-long scenic road that connects the Saint-Jean-du-Gard with the northerly municipality Florac. The scenic road does not lead to a peak, as it is common in mountain passes, but leads the visitor over several passes. This gives hikers numerous impressive views over the Cevennes. To descend into one of the surrounding valleys the hiker has several options to choose. There is one stretch of the Corniche des Cevennes route, where travellers can follow the footsteps of the writer Robert Louis Stevenson.
You can enjoy an exceptionally good view at the following places: The Col des Faisses is with a height of 1028 meters; the highest point of the mountain pass. Even more impressive viewpoints are located at Col de l'Exil at an altitude of 705 meters, the Col de Saint Pierre at an altitude of 597 meters and the Hamlet of Le Pompidou. Between the Hamlet and the scenic road, hikers can see the Eglise St-Flour du Pompidou, which was built during the Middle Ages. On this sacred building, you can still study the outstanding Romanesque architecture. Now the church serves regularly as an exhibition space.
In the footsteps of the writer Stevenson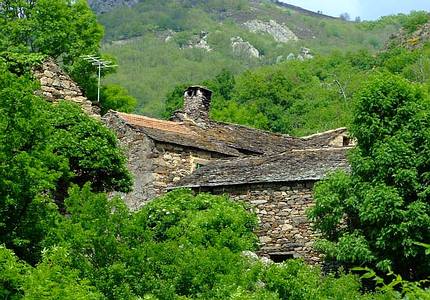 Cévennes | ©: www.anduze-info.com
The Corniche des Cevennes became famous through a poetic travelogue; which the author Robert Louis Stevenson composed after a twelve-day hike through the Cevennes with a donkey called Modestine. This happened four years before he landed his world success "Treasure Island". He also described the village of Saint-Jean du Gard, which represented the final destination for the writer's hike.
For the modern traveler who is interested in the history, customs and culture of the region, a visit to the Musée de Vallées Cévenoles is simply a must. The local history museum was set up at an inn in the 17th century. It depicts the life and culture in the Cevennes from different perspectives. Individual focal points of the exhibition are devoted to the sericulture and the significance of sweet chestnuts.
The Corniche de Cévennes for motorcyclists
The Corniche de Cévennes is most popular with motorcyclists. Usually, They are starting off from Florac to the south, and do not necessarily stop in Saint-Jean-du-Gard, but mostly keep going to the valley of the Gardon de Mialet. This day trip can be easily extended to Ales. Nevertheless, usually, there is sufficient time to enjoy the beauty of the scenery.
[ © Copyright by www.anduze-info.com | Anduze in South of France - the gateway between Provence and the Cévennes]
to the top | Home | Sitemap | Imprint & Contact | this page in German
©: www.anduze-info.com