Imprint & Disclaimer: www.anduze-info.com
The author of this site traveled with youth groups extensively through southern France (Cevennes, Provence, Haute-Provence) and holidayed there now for several years. Anduze as a location offers many opportunities to create a relaxing, fun-filled and adventurous holiday for the entire family including children and youth.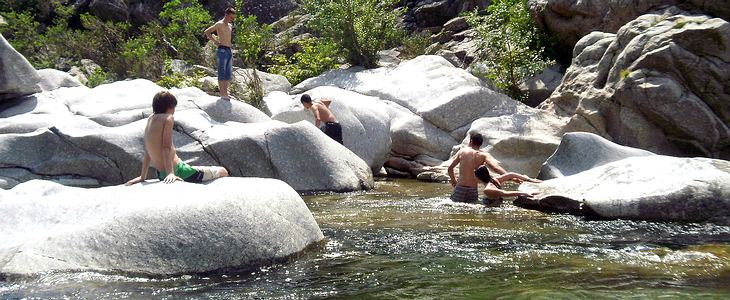 Holiday with childrens and youths in Anduze | ©: www.anduze-info.com
For all links:
I would like to emphasize that I have no influence on the design and content of the linked pages.
The sites listed were chosen because I could not see any legally nor ideologically issues at the time of writing. If, in your opinion that has changed, which is possible in the shortest of time, please let me know. Should you discover that a link no longer works, please let me know that as well. Thank you.
Disclaimer:
The contents of these pages were created with great care. The author assumes no responsibility for the actuality, correctness, completeness or quality of information provided. Liability claims against the author relating to material or immaterial nature caused by the use or disuse of the information or the use of incorrect or incomplete information are categorically excluded.
Data protection
Cookies from www.anduze-info.com
There is no use of cookies at this site and cookies are not used in any way to collect personal data of visitors.
Cookies from third party
Third parties may place and read cookies on your browser, or use web beacons to collect information, in the course of ads being served on this website. www.anduze-info.com do not control these cookies. The use of advertising cookies sent by third-party servers is standard in the Internet industry. Some third-party advertisements may be provided by Google, which uses cookies to serve ads on this site. Google uses the DART cookie, which enables it to serve ads to our users based on their visits to this site and other sites on the Web. You may opt out of the use of the DART cookie by visiting the Google ad and content network privacy policy.
Please note that you control the Cookies that sites you visit can place on your computer. Most browsers are set up to accept Cookies by default. You can disable Cookies in your browser, limit the type of Cookies you will accept or ask to be warned when a site places a Cookie on your computer. Privacy software can be used to override web beacons.
E-mail address:
Your e-mail address is nowhere published or shared unless you explicitly want that.
Copyright
Texts: The copyright of all articles, unless otherwise stated, belongs to the page owner (see above).
Header image:
The header image has been created using an image from Fotolia (picture photographer Martin Keller, Fotolia-picture-number: 19839183)
Pictures:
Some more pictures were taken from the picture database Fotolia. This is indicated below each image. For all other photos, the rights belong to the site owner and originate from our own picture archive.
[ © Copyright by www.anduze-info.com | Anduze in South of France - the gateway between Provence and the Cévennes]
to the top | Home | Sitemap | Imprint & Contact | this page in German
©: www.anduze-info.com