The Tarn Gorge
The Tarn River starts in the Cévennes, more precisely, on Mont Lozer, and flows through the region of Languedoc-Roussillon and Midi-Pyrénées. After a distance of 380km, the Tarn eventually flows into the Garonne. The Tarn Gorge is known for its natural beauty as well as a perfect place for adventure travellers.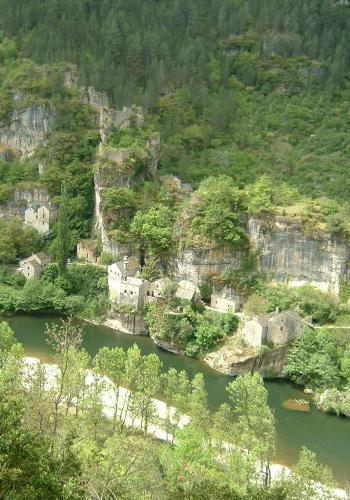 Ruins des Chateau de Castelbouc over the small town Castelbouc
©: www.anduze-info.com
Attractions in the Tarn Gorge
If you explore the Tarn Gorge by car, you first come to Quézac, where a Gothic bridge spans the Tarn. After the next small town Blajoux, you can see the ruins of Chateau de Castelbouc on the opposite side of the Tarn Gorge. This castle was believed to have been built during the 12th century. However, in the second half of the 16th century, the castle was abraded, most likely not to provide shelter to the Huguenots. The ruins sit majestically on a cliff above the village of the same name.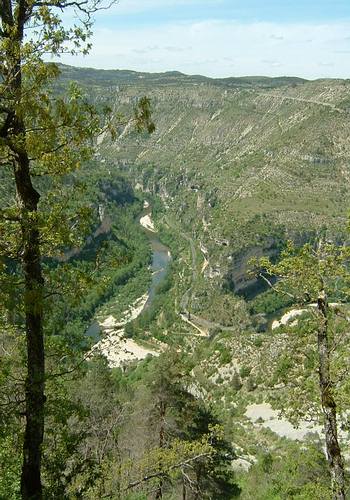 Gorge du Tarn | ©: www.anduze-info.com
The road continues to St-Chély and Pognadoires, where, on both sides of the Tarn Gorge, magnificent lookouts are located. In La Malene, it is advisable to switch to the left side of the gorge. The reason is on this side the Roc du Serre and the Roc des Hourtous give you a fantastic view of the Tarn Gorge. Back to the right side of the gorge, the road continues to Les Detroits, which marks the narrowest point of the Tarn Gorge. On the way to Le Rozier, you will also pass through the Pas de Souc and its "sea of rocks" and the Lookout Point Sublime, where you can enjoy a panoramic view of the surrounding area.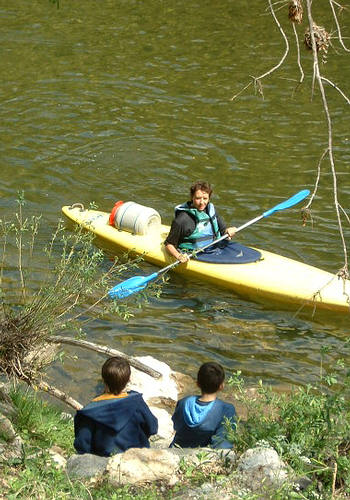 Tarn Gorge by canoe | ©: www.anduze-info.com
Climbing and canoeing in the Tarn Gorge
It was only in the recent years that the Tarn Gorge experienced a Renaissance regarding rock climbing. After the sports climbing boom in the 1980s took over, many routes were initially closed. Meanwhile, however, the climbing is regulated and only allowed to officially designated routes. With the recent Climbing Guide, which was published in summer of 2012, the network of climbing routes was expanded to a total of 200 courses. Most routes offer climbers a comparatively challenging tour.
Experience the Tarn Gorge by canoe
The Tarn Gorge is a popular destination with canoeists. It gives them the opportunity to experience the natural beauty from a very particular perspective. For teenagers, there are yearly Canoe Camps organized. They are located near Ispagnac and offer youth groups an exciting activity holiday. Great emphasis is placed on an exceptional team spirit.
[ © Copyright by www.anduze-info.com | Anduze in South of France - the gateway between Provence and the Cévennes]
to the top | Home | Sitemap | Imprint & Contact | this page in German
©: www.anduze-info.com