Karting and motorcycle routes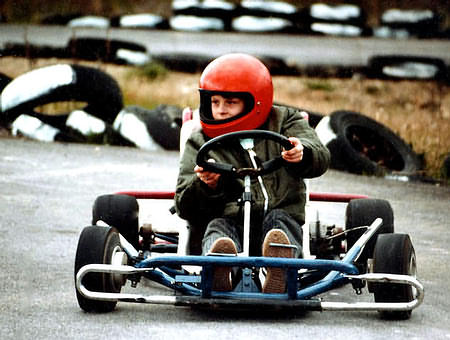 Karting - not only for Kids an adrenalin-containing experience
©: www.anduze-info.com
For children, adolescents and adults of karting is always an exciting challenge, an adrenalin-containing experience and a great variety on holiday. A few kart racetracks there to Anduze around. On 1-2 slopes can be driven with a motorcycle, a provider offers enduro tours through the Cevennes.
Because the Cévennes are very popular with motorcyclists. Although the winding roads are quite dangerous and should not be overconfident in the curves, but for cruising and experiencing nature are the Cevennes ideal motorcycle paradise. Meanwhile, there are some hotels that have their offerings tailored specifically for motorcycle tourists. Many a house regularly organizes guided tours for its guests.
Unfortunately, the websites of the following tips are all held in French, but everyone can very quickly find out what is offered in each case.
---
The track is approximately 1.2 kilometers long. There are different karts are available, the smallest may be driven from 7 years. The other karts have between 270 (from 11 years) to 390 cubic (from 15 years).
Website: www.pole-mecanique-karting.fr, Address: Pôle Mécanique Karting, Route de Mende, 30520 St. Martin de Valgalgues
Distance to Anduze: about 20 km, about 30 minutes by car.
---
For motor-bike-enthusiasts you can with this provider enduro or quad trails book through the Cevennes. There are several variants of Classic on scenic routes up to "L'extreme". Of course you need a motorbike license for these tours.
Website: www.polemecanique-mc.com/enduro-trial/, Address: Pôle Mécanique Moto Club, Vallon de Fontanes, 30520 St Martin de Valgalgues
Distance to Anduze: about 20 km, about 30 minutes by car (same location as above).
---
The karts have 160 and 390 cm3 and between the smallest Karts may already be driven from 10 years.
Website: www.elceka-1max2karting.com, Address: Karting ELCEKA, Route de Bel Air, 34790 GRABELS (bei Montpellier)
Distance to Anduze: approximately 60 km, about 60 minutes by car.
---
On the 700 meter long runway, the 7-10 year olds with 120cm3 Karts may rushing down the slopes and the older adolescents and adults with karts from 270cm3.
Website: www.lacalmettekarting.fr, Address: La Calmette Karting, rt de St Chaptes, 30190 la Calmette
Distance to Anduze: about 33 kilometers about 30 minutes by car.
---
[ © Copyright by www.anduze-info.com | Anduze in South of France - the gateway between Provence and the Cévennes]
to the top | Home | Sitemap | Imprint & Contact | this page in German
©: www.anduze-info.com