Canoe and kayak trips on the Herault, Chassezac, Cèze or Gardon
The Cevennes are considered a dreamlike area for every canoeist. You can navigate five rivers, at least in parts, and get to know nature in its natural design and from another perspective. Varieties of providers hire out canoes on site and also offer guided tours.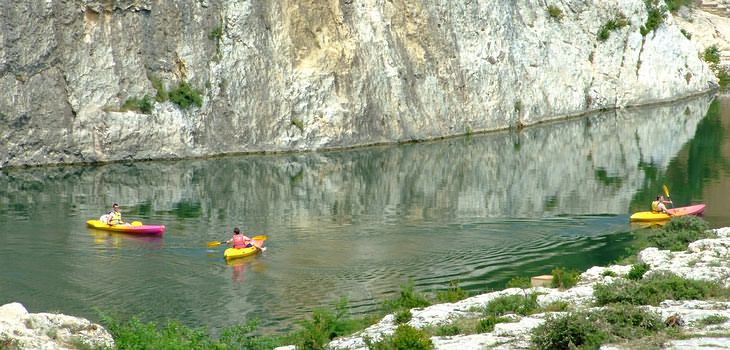 Canoe and kayak trips in the Provence (near Pont du Gard) | ©: www.anduze-info.com
The rivers in the Cévennes
The Herault
The source of the Herault is located near the Mont Aigoual. At a length of 163 kilometres, it flows south and eventually flows near Montpellier into the Mediterranean Sea. About 30 to 50 kilometres north-west of Montpellier, the canoeists can choose of three routes of varying difficulty, which are separated by reservoirs. Guests can connect the nautical excursion with sightseeing. Because in the Devil's Canyon and at Ganges they can see the "Grotto de Clamouse". "Grotto des Demoiselles" and the "Cirque de Navacelles", are a 15-meter-high waterfall, which flows down into the valley. Three impressive natural spectacles.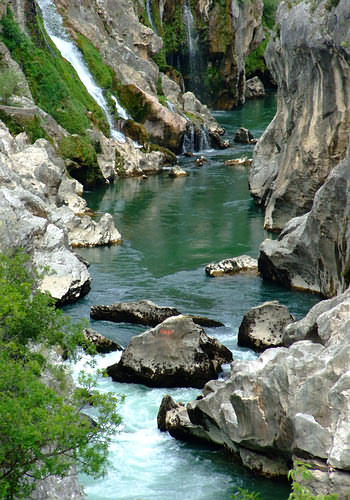 Read the red STOP: Dangerous passage for canoes
©: www.anduze-info.com
Chassezac
The Chassezac springs at an altitude of over 1,000 meters in the Montagne du Goulet. The upper portions of the Ardeche-feeder are considered difficult, and you can only go for a ride there in spring. However, the underflow, up to the mouth of the Ardeche can be used throughout the year, provided, the water level is sufficient. Because there are almost numerous camping sites along the banks, you can divide the trip into nearly every length, for every age and competence of the canoeists.
Gard
The Gardon, which is partially called Gard, rises in the central Cevennes and flows over a length of 127 kilometres to the southeast before it flows into the Rhone. Canoeists in particular like the Gorges du Verdon between Russan and Collias. This 20-kilometer route, however, should be travelled in one go. An intermission is only possible about halfway, where the Pont St Nicolas crosses the river. An excellent entry to this sequence is located at Russon near the bridge.
The stage between Collias and the Pont du Gard is considered to be a classic canoeing route. Here are no particular challenges, therefore, the route can be travelled even in the context of a family outing.
Cèze
The Cèze has its source near the Cevennes summit Truc du Samblonnet and flows to the southeast until it joins the Rhone between Codolet and Laudun-l'Ardoise. While the headwaters of the Cèze is pure wild water, the middle course is considered a good hiking river, which provides highlights of various open gorge routes.
Tarn
The Tarn is considered among canoeists as one of the most famous wild water rivers in France. The reason: While the Upper Tarn up about to Florac is pure wild water, which only in spring has enough water for its distance of about 20 kilometres, the difficulty level decreases downriver. Especially the section from Molines when the river becomes a gorge-like character, the Tarn can be easily navigated by experienced hiking paddlers. Only the Pas de Socucy, a rockslide in the Gorges du Tarn, cannot be navigated by canoe, but needs to be bypassed on land. Even further downstream, behind Le Rozier, there are still some worthwhile river hiking sections.
The following vendors offer, among other things, canoe trips on the rivers of the Cevennes:
---
Trips on the Herault are offered in different lengths between 3 - 17 km. One particular tour is appropriate for children age 6, and up while all other tours require a minimum age of 12 years and of course, you need to be a swimmer.
Website: www.canoelemoulin.fr, Address: Canoë Le Moulin, D986, 34190 St Bauzille de Putois
Distance to Anduze: about 35 km, about 35 minutes by car.
---
This vendor offers river hikes of 7-15km length on the Cevennenriver Hérault. A quiet tour of 8km is suitable for beginners; children are allowed from age 6 and up. The other tours are a bit wild, and the minimum age is 11 years. The website is available in German and English as well.
Website: www.canoe-cevennes.com, Address: Canoë Montana, 34190 Agonès
Distance to Anduze: about 38 km; about 38 minutes by car.
---
This provider offers canoeing trips on the Herault, 4-12 km long. They also offer a "Stand-up Paddling tour of 4 km.
Website: www.canoevdm.com, Address: Le Moulin de Bertrand, 34380 St Martin de Londres
Distance to Anduze: about 55 km, about 60 minutes by car.
---
In addition to climbing, biking, canyoning, caving and much more they also offer canoeing on the Gardon, a tour between 8 and 32km length. Special offers for school classes or youth groups can be arranged. The site is also accessible in German and English.
Website: www.moniteurs-gard.com, Address: Bureau des Moniteurs du Gard - 3, rue du Presbytère - 30210 Collias
Distance to Anduze: about 53 km; about 55 minutes by car.
---
Caving, climbing, canyoning, Stand Up Paddling and canoe trips are offered on the Chassezac. You can also hire a canoe and take the tour without a guide.
Website: www.ceven-aventure.com, Address: Ceven'Aventure, Le Pontier, 07140 Les Assions
Distance to Anduze: about 59 km; about 66 minutes by car.
---
Also, one provider who has some activities on his program. Besides spelunking, canyoning, climbing and abseiling, he also offers canoeing on the Chassezac, a length of 7-10 km. This site is available only in French.
Website: www.explo.fr, Address: EXPLO - Maison de l'Escalade, 07460 Berrias-et-Casteljau
Distance to Anduze: about 58 km; about 63 minutes by car.
---
[ © Copyright by www.anduze-info.com | Anduze in South of France - the gateway between Provence and the Cévennes]
to the top | Home | Sitemap | Imprint & Contact | this page in German
©: www.anduze-info.com