Canyoning in the Cevennes
The gorge landscape of the Cévennes offers adventurous holidaymakers a variety of sporting opportunities. While climbers have discovered the region as early as the 1980s; canyoning, on the other hand, experiences growing popularity in the recent years. However, here applies the same as for the hikers: You are not allowed to "stomp" through all the gorges bottom to top.

Swimming in Le Gardon
©: www.anduze-info.com

Jumping into Le Gardon
©: www.anduze-info.com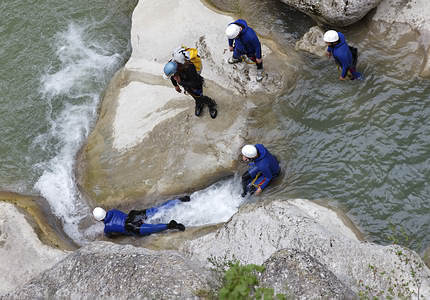 Canyoning in the Cevennes | ©: Philippe LERIDON - Fotolia
Guests who are interested in a Canyon trip, therefore, should contact one of the official vendors of the Cévennes. Sometimes they not just offer guided canyoning tours but also entire adventure holiday packages. For even more choices, there are numerous campsites and hotels. The accommodation providers often work in tandem with canyoning guides, respectively, they might be able to organise canyoning tours for large groups.
Depending on the provider and the selected tour, your meeting point is locally at an agreed starting point.
The following vendors have specialized in canyoning and other dynamic leisure events:
---
The tours taking place in the surrounding canyons of the Cevennes such as the Gorge du Tapoul du Soucy, Canyon du Rieutort, Canyon of Aigladines, or the Canyon du Haut-Chassezac. The respective tour duration is between 3-6 hours depending on the difficulty; children as young as 8 -12 years can participate as well. Very conveniently the provider has his office in Anduze.
Website: www.bambou-canyon.com, Address: 962B chemin de Recoulin, 30140 ANDUZE
---
Besides canyoning, you also can book other activities such as (climbing, abseiling, etc.) here. The canyoning takes place in the Canyon du Tapoul, Cascade d'Orgon, Ravin des Arcs, Le Soucy, the Canyon du Diable, or the Massif du Caroux respectively. Even trips to the Gorges du Verdon can be booked. This is, however, is a few hundred kilometres from Anduze.
Website: www.languedoc-canyoning.fr, Address: Office des Moniteurs du Languedoc, 18 impasse de la croix, 34270 St Jean de Cuculles
---
More vendors:
Registered providers who offer canoeing and canyoning might as well offer other activities in their programs.
[ © Copyright by www.anduze-info.com | Anduze in South of France - the gateway between Provence and the Cévennes]
to the top | Home | Sitemap | Imprint & Contact | this page in German
©: www.anduze-info.com