The castle of Tornac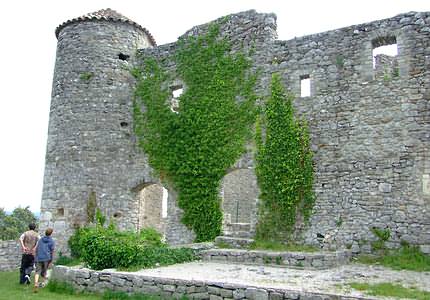 The castle of Tornac | ©: www.anduze-info.com
Visible from afar is the Castle of Tornac on a hill in front of Anduze. Because of its strategically good location, it could control the passage of the Provence to the mountainous Cevennenland.
The castle was built in the 11th/12th century. The watchtower was also called Signal Tower used to deliver more quickly messages (with damp straw during the daytime, with well-dried wood at night), to warn of danger. There is another watchtower in Corbieres, at the camping site Cevennes Provence, which belongs to the series of watchtowers, ranging from the Provence to the hinterland of the Cevennes behind Florac.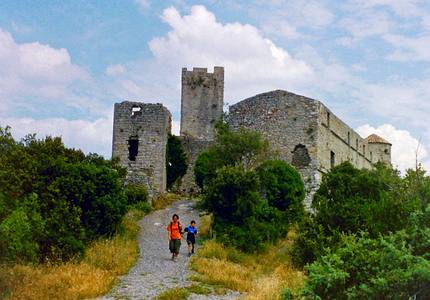 The castle of Tornac | ©: www.anduze-info.com
The mighty walls of the Tower of Tornac protrude 25 meters into the air; it has three floors and at the bottom of the tower, a cistern. In the 16th century, the castle was extended for another residential wing and other small buildings, due to the now flourishing mercantile exchange (e.g. silk) on this trade route. Therefore, the plain- and the high country had to be secured and monitored.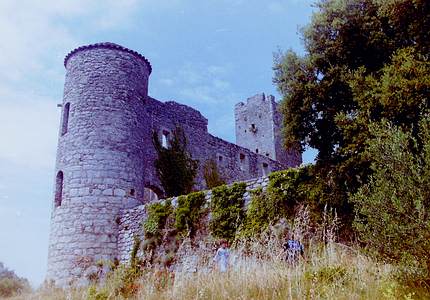 The castle of Tornac | ©: www.anduze-info.com
The Tornac castle had its heyday in the 18th century. Beautifully landscaped gardens with orange trees, cypresses, alleys with numerous statues and fountains. This is hard to believe, because of this magnificent garden, there is hardly anything to see today. One reason is that a family member of the Brison family had gambling debts and therefore, could no longer maintain the garden and had it destroyed. The French Revolution did the rest when the castle went up in flames in 1792. And so once again the beautiful castle deteriorated more and more.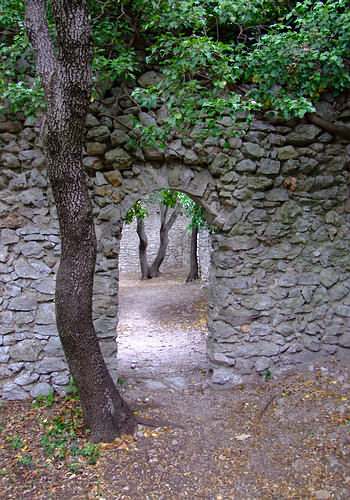 The castle of Tornac | ©: www.anduze-info.com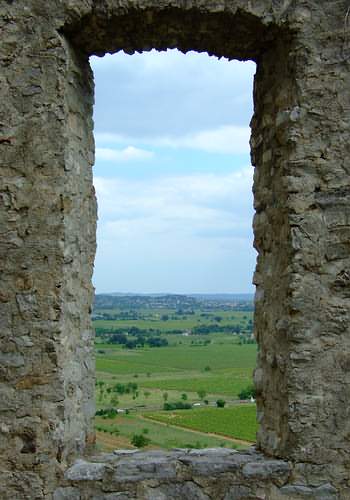 The castle of Tornac | ©: www.anduze-info.com
Today the Tornac castle is protected by the Association of Friends of the Castle of Tornac and partially restored. The castle is freely accessible. By car, you can drive up relatively closely, but the road is very rocky and bumpy. The rest of the path up have to walk up to the castle.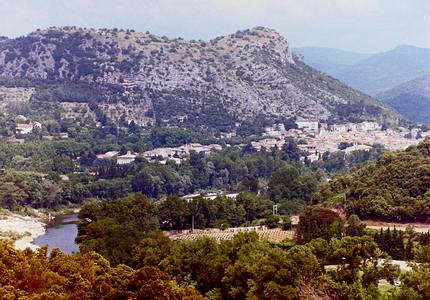 The castle of Tornac: view in direction of Anduze | ©: www.anduze-info.com
From here you can enjoy the magnificent view of the surrounding countryside, the Cevennes behind Anduze, in the Provence, and the vines of Tornac down below in the plains. Especially for children, the visit of the "Château de Tornac" is a beautiful experience and a rewarding excursion destination. Depending on the time of day you also can capture beautiful scenery images on your camera.
[ © Copyright by www.anduze-info.com | Anduze in South of France - the gateway between Provence and the Cévennes]
to the top | Home | Sitemap | Imprint & Contact | this page in German
©: www.anduze-info.com