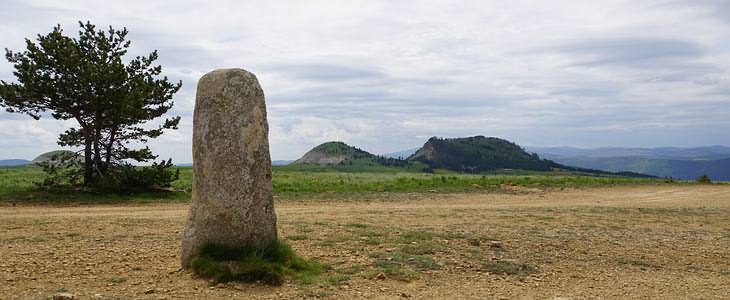 Menhirfield Cham des Bondons | ©: www.anduze-info.com
Menhirfield Cham des Bondons
The plateau of the Bondons Cham is a part of the Southern French National Parks Cevennen, which is located in Lozère. It is not only the austere beauty of the landscape that impresses the visitors, but also the accumulation of 154 Menhirs. The upright stone blocks are from prehistoric times and are referred to in the German language as the "Standing Stones".
The plateau Cham des Bondons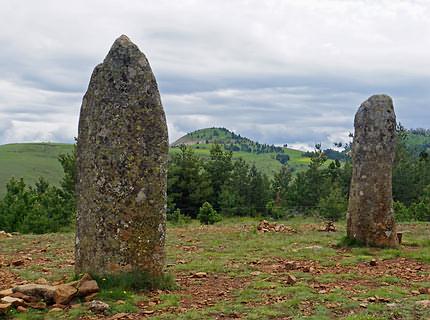 Menhirs Cham des Bondons | ©: www.anduze-info.com
The Cévennes National Park is part of the Cevennes, the Karst Mountains in south-eastern France. The 321,378-hectare park gives the impression of a primaeval forest landscape, from which hills, as well as craggy rock formations, rise. Especially in the middle, you can see an impressive flora and fauna with plants in an exceptional assembling. It's not only tulips that grow here, but also orchids; as well as animals like the mouflon or the deer the genet, woodpecker or beaver share this area too. At the sight of this magnificent nature, you can imagine that thousands of years ago people used the plateau for their cultural festivals.
Cham des Bondons – pre-historic graves
The approximately 10 km2 large limestone plateau Cham des Bondons is located in the northeast of the national park near the village of Les Bondons. From an archaeological point of few this is a place of worship. It lies on a hill at 1,000 meters above sea level, enriched by about 150 menhirs. The stones are made of granite from Mont Lozère. Their height is between 2 – m. Usually, they are standing by themselves or in groups or 2 – 3 stones. It is noteworthy that the stones are from the southern hills of Mont Lozère and had to be transported over a distance of between 800 meters and 3 km.
Part of those rock formation was recognised as Monuments Historique in 1941 and belongs therefore to the Listed Buildings. The Menhirfeld, the Cham des Bondons, is one of the largest cities in the megalithic culture in Europe developed most likely about 4500-5000 years. Experts say that there are fewer tombs at the Cham des Bondons, but more so-called grave mounds. In the proximity of Caosou, two more grave mounds have been discovered. However, neither containing an urn even bones. These findings are related to the copper Stone Age settlement, whose remains were found here.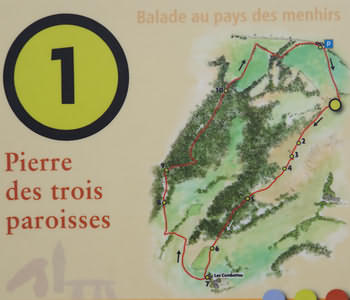 walk through Menhirfield Cham des Bondons | ©: www.anduze-info.com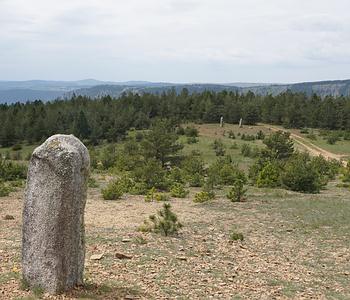 Menhire Cham des Bondons | ©: www.anduze-info.com
Hiking at the Cham des Bondons
A slightly shorter walk through Menhirfield takes about 2 hours. On the way, you will walk past about 20-30 menhirs. When you reach the idyllic village of "Les Combettes" you have covered half the way. A marked trail hike around the two imposing mountain hills takes about 4-5 hours. Start and finish is Malbosc.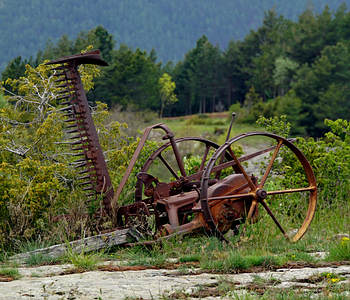 Cham des Bondons | ©: www.anduze-info.com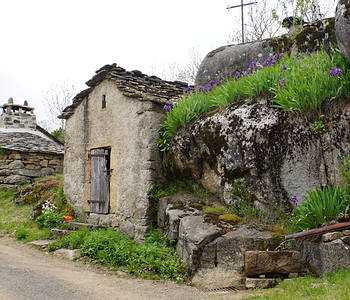 village of "Les Combettes&quot near Cham des Bondons | ©: www.anduze-info.com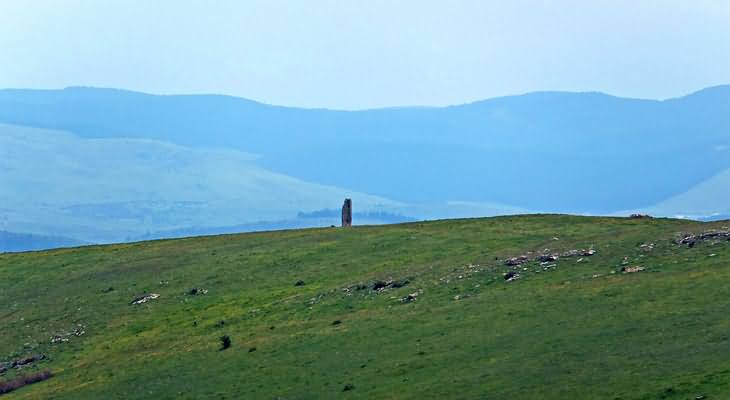 Many Menhirs more in the closer area of Cham des Bondons | ©: www.anduze-info.com
[ © Copyright by www.anduze-info.com | Anduze in South of France - the gateway between Provence and the Cévennes]
to the top | Home | Sitemap | Imprint & Contact | this page in German
©: www.anduze-info.com